Michael, being a former detective, states that the manifesto appears to be tampered with, there are many writing styles that are obvious in the manifesto that was released to the public, that leads him to this conclusion..
Michael Ruppert states, excessive corruption, and the good old boy system is a live and well in Las Angeles and is full of abuse and even perjury. This is a must see interview that gives you an inside look into LAPD that mainstream media is not telling you.
http://beforeitsnews.com/the-law/2013/02/stunning-ex-l-a-pd-officer-from-a-cia-family-supports-dorner-speaks-out-against-lapd-video-2448624.html
Fourth post: Chris Dorner wallet found two types at two different locations?
Chris Dorner's wallet has been found now....twice. First we learn from USA Today that Chris Dorner's wallet has miraculously been found within the charred remains of the cabin that he had been hiding out in and presumably died in. However, Chris Dorner's wallet was also found last Thursday, according to this story in the LA Times. This guy Dorner has the worst luck with losing his wallets! I'm sure the LAPD is thankful. First, from USAToday:
Investigators were picking through the rubble of a burned-out cabin in California's San Bernardino Mountains on Wednesday, trying to piece together details of the violent last stand for a fugitive former Los Angeles police officer whose life apparently ended hours earlier in a barrage of bullets and blazing fire.
The San Bernardino County Sheriff's Office said charred human remains were found in the rubble where Christopher Dorner is said to have been cornered Tuesday. "We have reason to believe that it is him," sheriff's spokeswoman Cynthia Bachman said.
A wallet with a California driver's license bearing the name Christopher Dorner also was found, the Associated Press reported, citing a law enforcement official who was briefed on the investigation but declined to be named because of the ongoing probe.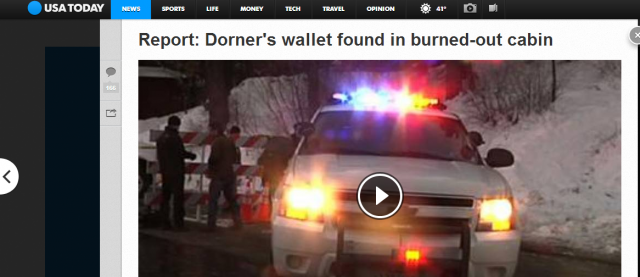 So, they've found Chris Dorner's wallet in the burned out cabin where they pinned him down. Fortunately for them, the wallet survived the fire somehow. This event is quite similar to the passport found in the charred rubble of the World Trade Center after 9/11:
"According to ABC News and the Associated Press, the passport of hijacker Satam Al Suqami was found a few blocks from the WTC."
Strangely enough, Christopher Dorner's wallet was also found last Thursday as well, after Chris allegedly tried to steal a boat in San Diego. From the LA Times story.:
Dorner allegedly attempted to steal a boat in San Diego and, after subduing the captain, said he was taking the vessel to Mexico, according to an affidavit filed with a criminal complaint in federal court in Los Angeles. Dorner is accused of telling the captain that he could recover his boat in Mexico.
"The attempt failed when the bow line of the boat became caught in the boat's propeller, and the suspect fled," according to the affidavit by inspector U.S. Marshal Craig McClusky.
After authorities interviewed the boat captain early Thursday, they found Dorner's wallet and identification cards "at the San Ysidro Point of Entry" near the U.S.-Mexico border. That same day, a guard at the Point Loma Naval Base told authorities he had spotted a man matching Dorner's description trying sneak onto the base, according to the court records.
More below...
Who and what are we to believe? The CIA's Anderson Cooper tells us Chris is dead. We've heard that his wallet was found in the fire from USA Today. He MUST have been inside the cabin when it burned to the ground if his wallet was inside, right? It's quite amazing to me that Chris's wallet survived the fire. Almost as amazing as them finding his wallet, twice.
The morning of 2/12, a big African-American man in Big Bear stole a purple Nissan SUV, owned by Jay of Jay's Tree Trimming Service. (Lt Foy, Fish and Wildlife thought this car belonged to two maids.) Around 12:45, while following two school buses, the vehicle passed a sheriff's car and a Fish and Wildlife car. What is interesting is the difference in stories. Fish and Wildlife Public information officer Andrew Hughan, who was kind enough to draw a diagram of the action, had the suspect driving towards Big Bear, but Sacramento Fish and Wildlife's Lieutenant Patrick Foy had him going down Highway 38 away from Big Bear. After this reporter pointed out the discrepancy they solidified behind Lieutenant Foy's version. According to Public Information Officer Andrew Hughan of the Fish and Wildlife Department, the purple SUV passed the school buses as did the officer's cars.
Meanwhile, two other Fish and Wildlife cars came from the East and turned on Glass Road. According to Officer Hughan and Lieutenant Patrick Foy of the Fish and Wildlife Department in Sacramento, the game warden in the first of the second set F&W cars believed he visually identified Dorner as he passed him in a car. The second F&W car was fired upon and hit (with about 5 or more rounds).
According to Hughan, Dorner turned East on 38 towards Big Bear. He stated that 38 and Glass curve towards each other. In his version, one of the F&W officers got out of his car and ran across the area towards where 38 (E) comes close to Glass and fired 15 to 20 rounds, emptying his clip. According to Lt. Foy, the F&W officer ran across an area where Glass did a hairpin turn and shot at the truck while it was on Glass Road. A while later Rick's truck crashed.
The story about the truck crashing on Glass Road would put the truck closer to Seven Oaks, where the cabin was supposedly located. The Sheriff's Department, which finished up the chase and engaged in the reported gun battle, was conveniently leaving all the press work to F&W, which only had the first part of the story.
According to Lt. Foy, the suspect shot and killed a Sheriff's deputy on his way to the cabin and wounded another while shooting from inside. They were taken by ambulance down the mountain to a hospital. The wounded officer is expected to be fine.
The average response of news crews at the restaurant to whether it was Chris Dorner was that he was big, black and armed and so of course it was Dorner. According to Tom Berens, 80 to 90% of residents of the area own guns and the majority have shotguns. So, apparently the identifying part is big and black, a description that matches millions of Americans. An unknown number of black residents and visitors (big vacation area) could have guns while not being Chris Dorner.
With the police even shooting women they mistake for Dorner, maybe some non-Dorner African-American individuals with the "usual Angelus Oaks shotgun" could have been frightened into firing, but that is speculation. And while we were sitting at The Oaks Restaurant, a two big black guys showed up, one with Cal Trans and another an officer with guns. Did they get the wrong big black guy with a gun?
Coming from the East, the roadblock was much further from the scene with the blocked off area being about 23 miles of Highway 38. So the closest place for the press to hang out was at The Oaks Restaurant.
The police shot gas canisters into the cabin, perhaps. The cabin caught fire and burned. Remains were found. But whose? One newsman postulated that a resident could have been shot while Dorner escaped. But to the police, it is believed that this ends the episode of Chris Dorner.
In the mist of all this, a famous Congresswoman commented: "Remember Fahrenheit 451". To those who don't recall, Guy Montag escaped but the authorities had to show a conclusion and did a fake police chase complete with a shootout and killing of the supposed Montag, not the real one, but good enough for the television audience.
And if Dorner is dead, who is left to tell the tale of the two manifestos? The version released by most media outlets was inconsistent with the original manifesto and clearly written by a different person than the individual who wrote the original. But was the original even written by Dorner? If Dorner is dead, the public is left to make up its own theories.
Was Dorner even at Big Bear? Did he really shoot any of the individuals he is accused of shooting? The police mistook two women for him last week. Maybe it was two women who did all the shootings. Maybe it was two women in the cabin – if the officers up north have similar eyesight to the officers in Torrance.
Under the Constitution of the United States, a person is innocent until proven guilty in a court of law. This leaves Dorner legally innocent. But what is the truth and will we ever know?
In discussion over last weekend about the rather odd nature of the circumstances, it was postulated by an intellectual that Dorner died long ago, that there would be a shoot-out at the OK Corral in Big Bear and the remains would show up to verify he had died. The remains are a little charred. It remains to be seen whether they are Dorner's. Rumor has it that Dorner (Montag?) made it to Mexico.
Lt. Foy was a really nice guy, but Fish and Wildlife deferred to the missing Sheriff's department for the details and maybe they didn't want to account for them. The CHP claimed they were just working the road closures. Nobody's being particularly accountable. But isn't it interesting that the effort all along was to shoot his mouth closed (from the shooting of the women in Torrance) to the incident at Big Bear? What was it they didn't want anyone to hear him say?
Maybe Sam, the newshound, ready to head to the cabin and sniff out what really happened, will discover the full story.
*All photos taken by Ruth Hull
Ruth Hull is an activist and writer whose career has included work as a criminal defense attorney, a licensed private investigator, and an educator.
Source:
http://beforeitsnews.com/alternative/2013/02/a-good-cup-of-coffee-to-go-with-your-police-shootouts-and-burning-cabins-but-was-it-really-dorner-who-was-killed-2564320.html
The Associated Press reported that the body was "charred". A fire at the cabin was left to burn by officials for over two hours this evening.
It is likely to be some time before the body is officially identified but authorities had said earlier that they believed the man in the cabin was Dorner.
The Los Angeles police department has scheduled a news conference for midnight ET.'
These near murders committed by the LAPD have been shrugged off as 'mistakes' as Civil Liberties are trashed as the hunt for Christopher Dorner intensifies across the region. Meanwhile Dorner says, "it wasn't me" and Facebook pages continue to pop up claiming Dorner a new 'cult' hero. With the recent Sandy Hook, Aurora and Sikh Temple false flags and Dorners squeeky clean record up until his recent run in with LAPD corruption, who's to say who to believe in this latest episode of the police state in America unfolding in front of our very eyes.
The Internet Post
From: Christopher Jordan Dorner /7648

To: America

Subj: Last resort

Regarding CF# 07-004281

I know most of you who personally know me are in disbelief to hear from media reports that I am suspected of committing such horrendous murders and have taken drastic and shocking actions in the last couple of days. You are saying to yourself that this is completely out of character of the man you knew who always wore a smile wherever he was seen. I know I will be villified by the LAPD and the media. Unfortunately, this is a necessary evil that I do not enjoy but must partake and complete for substantial change to occur within the LAPD and reclaim my name. The department has not changed since the Rampart and Rodney King days. It has gotten worse. The consent decree should never have been lifted. The only thing that has evolved from the consent decree is those officers involved in the Rampart scandal and Rodney King incidents have since promoted to supervisor, commanders, and command staff, and executive positions.

The question is, what would you do to clear your name?

Name;
A word or set of words by which a person, animal, place, or thing is known, addressed, or referred to.

Name Synonyms;

reputation, title, appellation, denomination, repute.

A name is more than just a noun, verb, or adjective. It's your life, your legacy, your journey, sacrifices, and everything you've worked hard for every day of your life as and adolescent, young adult and adult. Don't let anybody tarnish it when you know you've live up to your own set of ethics and personal ethos.

In 8/07 I reported an officer (Ofcr. Teresa Evans/now a Sergeant), for kicking a suspect (excessive force) during a Use of Force while I was assigned as a patrol officer at LAPD's Harbor Division. While cuffing the suspect, (Christopher Gettler), Evans kicked the suspect twice in the chest and once in the face. The kick to the face left a visible injury on the left cheek below the eye. Unfortunately after reporting it to supervisors and investigated by PSB (internal affairs investigator Det. Villanueva/Gallegos), nothing was done. I had broken their supposed "Blue Line". Unfortunately, It's not JUST US, it's JUSTICE!!! In fact, 10 months later on 6/25/08, after already successfully completing probation, acquiring a basic Post Certificate, and Intermediate Post Certificate, I was relieved of duty by the LAPD while assigned to patrol at Southwest division. It is clear as day that the department retaliated toward me for reporting Evans for kicking Mr. Christopher Gettler. The department stated that I had lied and made up the report that Evans had kicked the suspect. I later went to a Board of Rights (department hearing for decision of continued employment) from 10/08 to 1/09. During this BOR hearing a video was played for the BOR panel where Christopher Gettler stated that he was indeed kicked by Officer Evans (video sent to multiple news agencies). In addition to Christopher Gettler stating he was kicked, his father Richard Gettler, also stated that his son had stated he was kicked by an officer when he was arrested after being released from custody. This was all presented for the department at the BOR hearing. They still found me guilty and terminated me. What they didn't mention was that the BOR panel made up of Capt. Phil Tingirides, Capt. Justin Eisenberg, and City Attorney Martella had a signigicant problem from the time the board was assembled. Capt. Phil Tingirides was a personal friend of Teresa Evans from when he was her supervisor at Harbor station. That is a clear conflict of interest and I made my argument for his removal early and was denied. The advocate for the LAPD BOR was Sgt. Anderson. Anderson also had a conflict of interest as she was Evans friend and former partner from Harbor division where they both worked patrol together. I made my argument for her removal when I discovered her relation to Evans and it was denied.
During the BOR, the department attempted to label me unsuccessfully as a bully. They stated that I had bullied a recruit, Abraham Schefres, in the academy when in reality and unfounded disposition from the official 1.28 formal complaint investigation found that I was the one who stood up for Abraham Schefres when other recruits sang nazi hitler youth songs about burning Jewish ghettos in WWII Germany where his father was a survivor of a concentration camp. How fucking dare you attempt to label me with such a nasty vile word. I ask that all earnest journalist investigating this story ask Ofcr. Abraham Schefres about the incident when Ofcr. Burdios began singing a nazi youth song about burning jewish ghettos.
The internal affairs investigation in the academy involving Schefres was spurned by a complaint that I had initiated toward two fellow recruit/offifcers. While on a assigned patrol footbeat in Hollywood Division, Officers Hermilio Buridios IV and Marlon Magana (both current LAPD officers) decided that they would voice their personal feelings about the black community. While traveling back to the station in a 12 passenger van I heard Magana refer to another individual as a nigger. I wasn't sure if I heard correctly as there were many conversations in the van that was compiled of at least 8 officers and he was sitting in the very rear and me in the very front. Even with the multiple conversations and ambient noise I heard Officer Magana call an indivdual a nigger again. Now that I had confirmed it, I told Magana not to use that word again. I explained that it was a well known offensive word that should not be used by anyone. He replied, "I'll say it when I want". Officer Burdios, a friend of his, also stated that he would say nigger when he wanted. At that point I jumped over my front passenger seat and two other officers where I placed my hands around Burdios' neck and squeezed. I stated to Burdios, "Don't fucking say that". At that point there was pushing and shoving and we were separated by several other officers. What I should have done, was put a Winchester Ranger SXT 9mm 147 grain bullet in his skull and Officer Magana's skull. The Situation would have been resolved effective, immediately. The sad thing about this incident was that when Detective Ty from internal affairs investigated this incident only (1) officer (unknown) in the van other than myself had statements constistent with what actually happened. The other six officers (John Carey, Gary Parker, Jacob Waks, Abraham Schefres and names I have forgotten) all stated they heard nothing and saw nothing. Shame on every one of you. Shame on Detective Ty (same ethnicity as Burdios) for creating a separate 1.28 formal complaint against me (Schefres complaint) in retaliation for initiating the complaint against Burdios and Magana. Don't retaliate against honest officers for breaking your so called blue line. I hope your son Ryan Ty, who I knew, is a better officer than you, Detective Ty.The saddest part of this ordeal was that Officer Burdios and Magana were only given 22 day suspensions and are still LAPD officers to this day. That day, the LAPD stated that it is acceptable for fellow officers to call black officers niggers to their face and you will receive a slap on the wrist. Even sadder is that during that 22 day suspension Buridios and Magana received is that the LAPPL (Los Angeles Police Protective League) paid the officers their salaries while they were suspended. When I took a two day suspension for an accidental discharge, I took my suspension and never applied for a league salary. Its called integrity.
Journalist, I want you to investigate every location I resided in growing up. Find any incidents where I was ever accused of being a bully. You won't, because it doesn't exist. It's not in my DNA. Never was. I was the only black kid in each of my elementary school classes from first grade to seventh grade in junior high and any instances where I was disciplined for fighting was in response to fellow students provoking common childhood schoolyard fights, or calling me a nigger or other derogatory racial names. I grew up in neighborhoods where blacks make up less than 1%. My first recollection of racism was in the first grade at Norwalk Christian elementary school in Norwalk, CA. A fellow student, Jim Armstrong if I can recall, called me a nigger on the playground. My response was swift and non-lethal. I struck him fast and hard with a punch an kick. He cried and reported it to a teacher. The teacher reported it to the principal. The principal swatted Jim for using a derogatory word toward me. He then for some unknown reason swatted me for striking Jim in response to him calling me a nigger. He stated as good Christians we are to turn the other cheek as Jesus did. Problem is, I'm not a fucking Christian and that old book, made of fiction and limited non-fiction, called the bible, never once stated Jesus was called a nigger. How dare you swat me for standing up for my rights for demanding that I be treated as a equal human being. That day I made a life decision that i will not tolerate racial derogatory terms spoken to me. Unfortunately I was swatted multiple times for the same exact reason up until junior high. Terminating me for telling the truth of a caucasian officer kicking a mentally ill man is disgusting. Don't ever call me a fucking bully. I want all journalist to utilize every source you have that specializes in collections for your reports. With the discovery and evidence available you will see the truth. Unfortunately, I will not be alive to see my name cleared. That's what this is about, my name. A man is nothing without his name. Below is a list of locations where I resided from childhood to adulthood.



Cerritos, CA.

Pico Rivera, CA.

La Palma, CA.

Thousand Oaks, CA.

Cedar City, UT.

Pensacola, FL.

Enid, OK.

Yorba Linda, CA.

Las Vegas, NV.