Are we speaking another falseflag or a real terrorist attack? I think towards shock and fear of the population ready to accept tighter goverment control or readyness for war. And bet what it all happend!

We must be alerted! Keep your eyes open en stay awake!
Update: Gold market drop
Update: Stock act
Update: CISPA
Update: Parents bombers declare FBI trap
Update: New photo images and ADVON truck
Youtube: Lieutenant Colonel Potter – "Boston Marathon Was A False Flag Done By Elements In Our Government
Youtube: LOOK ! Proof That Craft or Blackwater Agents did the Boston Marathon Bombing Event !
Update: Boston:The FBI Fosters, Funds And Equips American Terrorists
Update: 'They were set up, FBI followed them for years' - Tsarnaevs' mother to RT
Update: Sorcha Faal: Obama Deports Top Saudi Terrorist After Boston Kill Plot Foiled
Update: Shocking Footage Emerges: Boston Under Martial Law
Youtube: 4409 -- Marathon Bombers set up by FBI
Update: Unbelievable Proof Bomber 2′s Backpack didn't explode
Update: Boston Bombers Uncle On Feds Payroll, Tied To CIA
Update:

Pictures that Prove Double Amputee was an Actor at Boston Bombings
Update: 'Setup' - Boston bombings documentary
Update: Boston bombers' uncle married daughter of top CIA official
Update:
Newly Released Photo Of Dzhokhar Getting Out Of Boat Shows No Wound To Throat. #freejahar
Update:
Added 2 youtube movies: FBI Caught Red Handed Boston Hoax and Photos and Eyewitnesses Confirm - BOTH Boston Marathon Bombs Were Fake
Yes, the picture below appears to show the two same guys, standing alone, obviously quite disinterested in the proceedings. Is that a 'handler' standing in between them? How come they aren't talking when the previous pictures obviously show they are together?

The final picture I'll leave you with shows two more potential suspects…anything missing?
The Boston Marathon bombing has provoked shock, grief and outrage from around the world. After decades of conditioning, the public automatically equates such terrorism with Muslim radicals. But the evidence shows that every major terror plot on American soil in the past 10 years has been fostered, funded and equipped by one organization: the FBI.
Source:
http://blog.redefininggod.com/2013/04/20/a-new-suspect-the-boston-tea-party-bombings-update-17.aspx
(

Before It's News)
I already emailed some media members about this, but fear it won't get out and it needs to ASAP.
After reading the official "complaint" against Bomber 2 (the younger brother) it states clearly that he set the backpack down in the spot in from the forum restaurant right before the second explosion, and that it was here that the explosion occurred (the spot from where he set his pack) But if you look at these two photos comparatively, and zoom in on the aftermath photo, it clearly shows that the young man's pack is STILL where it was set down. Not in tatters either, but still intact.
FULL CRIMINAL COMPLAINT HERE
The FBI seems to be ignoring this but this photo shows this evidence clearly. Could it be the kid just got panicked and forgot his pack? I've set my briefcase down during football games (I'm a sportswriter) and forgotten to go back and get it when on the sidelines. SOMEONE PLEASE see if you can follow up with this.
BEFORE
AFTER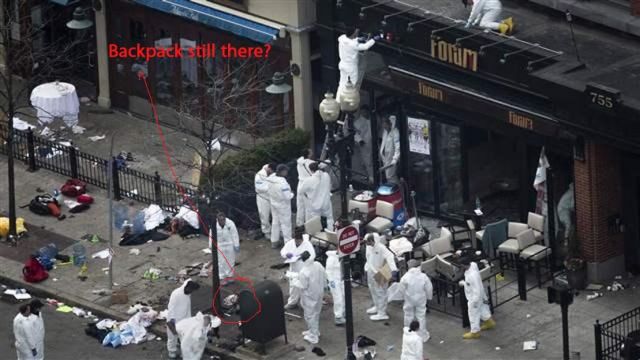 Source:
http://nesaranews.blogspot.nl/2013/04/pictures-that-prove-double-amputee-was.html
http://www.madcowprod.com/2013/04/26/boston-bombers-uncle-married-daughter-of-top-cia-official/
Thursday, July 18, 2013 16:59
Source:
http://beforeitsnews.com/alternative/2013/07/newly-released-photo-of-dzhokhar-getting-out-of-boat-shows-no-wound-to-throat-freejahar-2714736.html
Possible reasons of terror
- Gold market drop
- 'Stock'act
- CISPA
- Fear
- Training
Dutch:
Wat is er aan de hand met goud? (uitgebreide update)
Een extra editie van deze nieuwsbrief lijkt me wel op zijn plaats na de "crash" van goud en zilver gisteren.
Op momenten zoals deze, is het goed om even een stap terug te zetten en na te gaan of de fundamtentals nog steeds aanwezig zijn.
Ik begin met het opmeten van de schade.
Als je denkt dat dit er vreselijk uitziet, dan heb je gelijk. Mocht het een troost zijn: ook mijn portefeuille kreeg vrijdag een vreselijke klap.
Nabeurs werd het zelfs nog erger.
Goud heeft de voorbije jaren de steun op $1530 herhaaldelijk getest waardoor er rond deze niveaus behoorlijk wat stop-loss orders lagen.
Bovendien zijn er heel wat beleggers die automatisch verkopen wanneer zo'n belangrijke steun het begeeft.
En als kers op de taart, noteert goud nu meer dan 20% onder de highs waardoor heel de media kan roepen dat we nu officieel in een berenmarkt zitten.
Er waren nog meer elementen die marktspelers nerveus maakten. Denk maar aan het verkoopadvies van Goldman Sachs enkele dagen geleden of de gedwongen goudverkopen van Cyprus.
Als onderdeel van het reddingsplan stond ergens in de kleine lettertjes dat de Cypriotische centrale bank verplicht was om 10 ton goud te verkopen om mee te helpen met de financiering van het plan.
Bij de centrale bank wisten ze echter van niets en vrijdag gaf het éne lid na de andere zijn ontslag omdat door dergelijke beslissingen de onafhankelijkheid van de centrale bank in het gedrang komt.
Cyprus klampt zich vast aan de goudreserves en vecht ervoor als een leeuw. Niettemin heeft die 10 ton maar een waarde van ongeveer 400 miljoen euro. Op een totale financieringsbehoefte van 23 miljard euro niet meer dan een druppel op een hete plaat.
Eerder zagen we ook al Griekenland er alles aan doen om te vermijden dat de goudreserves opgeofferd moesten worden. Toch vreemd dat men zo'n gevecht wil leveren voor iets dat volgens velen niet veel waarde heeft en financieel amper iets voorstelt.
Het moet dan toch zijn dat ze geloven dat deze reserves vroeg of laat belangrijk en waardevol zullen worden?
Goed, nog even over de jongens van Goldman Sachs. Mijn mailbox zat vol met emails van beleggers die me vroegen of het niet tijd werd om goud te verkopen nu Goldman Sachs een verkoopadvies geeft en uitpakt met een koersdoel van $1270.
Het zou me niet verbazen als ze nu precies hetzelfde doen. Iedereen adviseren om goud te verkopen ... en zelf van de lage prijzen gebruikmaken om posities op te bouwen. Zo verdien je geld op Wall Street.
Kortom, de ideale omstandigheden werden gecreëerd voor wat Sinclair omschrijft als "een gecoördineerde aanval" op goud.
Bij de opening werd duidelijk dat het doel de steun op $1530 was. Als men die kon breken, zou de rest bijna vanzelf gaan. Stop-loss orders en technische analisten zouden de verkoopgolf aan momentum laten winnen.
Wat we vrijdag zagen, is niets minder dan een precisiebombardement om de prijs van het goud doelbewust lager te zetten.
Het spel speelt zich af op de futuremarkten. Hier wordt de prijs van het goud bepaalt en deze markt is vatbaar voor manipulaties omdat de meeste kopers nooit fysieke levering vragen.
Een grote partij die het goud echt lager wil, kan de markt overspoelen met papieren verkopen en moet niet eens over het goud beschikken.
Gisteren werden er zo bijvoorbeeld 374.000 futurecontracten verkocht. Ieder contract heeft 100 ounces goud als onderliggende waarde waardoor er in feite 37,4 miljoen ounces goud werden verkocht. Dat komt dus overéén met ongeveer de helft van de jaarproductie.
Gisteren werd dus op één dag evenveel goud verkocht als alle goudmijnen samen kunnen produceren op 6 maanden tijd!
Normaal kan je dat niet noemen. Als een grote verkoper een degelijke hoeveelheid goud wil verkopen, neem je daarvoor normaal je tijd.
Dat gooi je niet in één keer op de markt want dan weet je dat je geen goede prijs krijgt.
Iemand wil goud hier heel doelbewust lager, zoveel is zeker.
Volgens Robert maakt de FED zich zorgen over de dollar. De centrale bank print behoorlijk veel geld om een inéénstorting van het systeem te vermijden.
Het risico bestaat dan echter dat je munt in vrije val gaat, waardoor je hier niet mee verder kan gaan.
De sleutel in dit verhaal, is de goudprijs. Als deze ongecontroleerd begint te stijgen, is het bewijs geleverd dat je munt in gevaar is. Dat moet dan ook kost wat kost vermeden worden.
Vandaar dat de Federal Reserve regelmatig een "raid" op het goud organiseert. Ze krijgen hiervoor hulp van de prime dealers.
Ik heb eerder al besproken hoe Goldman Sachs deze week met een verkoopadvies kwam, maar vrijdag waren er ook geruchten dat Merrill Lynch 4 miljoen ounces goud bij opening op de markt knalde.
Nogmaals: een slimme verkoper (en dat is Merrill Lynch zeker) gaat zo niet tewerk. Dergelijke acties zijn alleen maar bedoeld om de prijs lager te zetten.
Deze manipulaties zijn overigens al een hele tijd gaande. Vooral op cruciale momenten, kan je er niet naast kijken.
Op dagen dat er bijzonder positief nieuws voor goud naar buiten komt, zie je duidelijk dat de prijs gewoon niet mag stijgen.
Ik herinner mij bijvoorbeeld de dag dat de Zwitserse frank gekoppeld werd aan de euro. In de maanden voordien was er heel wat kapitaal gevlucht vanuit de euro naar de Zwitserse frank waardoor deze laatste te hard steeg en de lokale economie hinderde.
De Zwiterse centrale bank besloot dan maar om deze vluchtroute te barricaderen door de munt te koppelen aan de euro.
Wat blijft dan over als vluchtroute? Goud natuurlijk! Wel, het goud ging aanvankelijk ook hoger maar op dat moment was het alle hens aan denk om de prijs naar beneden te krijgen.
Die dag bleek ook de dag dat goud zijn hoogste koers bereikte in deze bullmarket.
Sindsdien probeert men iedere rally van het goud de kiem in te smoren. Iedere keer als je denkt "en nu zijn we vertrokken", wordt de prijs weer lager gezet.
Heeft het dan nog wel zin om goud te kopen? Als de centrale banken op een dergelijke manier de prijs kunnen bepalen, is dat misschien toch niet de juiste belegging?
Voorlopig is dat misschien nog het geval, maar ik wil je er even aan herinneren dat men de prijs alleen maar kan manipuleren via de futuremarkten.
Dit stopt wanneer grote partijen fysieke levering vragen voor hun goudaankopen. Denk dan niet alleen aan beleggers die het ergens in een kluis gooien, maar vooral aan centrale banken zoals China en Rusland die van de relatief lage prijzen profiteren om het dollarreserves te converteren naar goud.
China kocht vorige maand alleen al meer dan 100 ton goud. Volgens Andrew Maguire kochten centrale banken gisteren alleen al meer dan 100 ton. Fysiek te leveren uiteraard.
Misschien krijgen we nog enkele moeilijke dagen waarin papieren verkopen de prijs lager zetten, maar ik heb de indruk dat er achter de schermen behoorlijk wat paniek is.
Deze aanvallen tonen de wanhoop van centrale banken aan nu spaarders over heel de wereld zich zorgen maken dat Cyprus ook wel eens bij hen zou kunnen gebeuren.
Heel wat van dat geld gaat richting goud en het is nu dan ook van het grootste belang om dat zoveel mogelijk te ontmoedigen.
Dutch:
http://www.beurs.com/2013/04/13/wat-is-er-aan-de-hand-met-goud-uitgebreide-update/20744
Dutch:
Schokkend!! De dag voor de goudcrash had Obama een meeting met deze VS banken…
H/T Guido Clicque