A soldier was 'behead' in London today while his two attackers were later shot in this breaking story from London and The Irish Examiner:
A man was killed and two others were taken to hospital with gunshot wounds today following a "serious incident" understood to involve a serving British soldier.
Several witnesses described seeing a "beheading" while another described seeing a man wearing a Help for Heroes T-shirt being attacked with a machete-style knife and dumped in a south east London street.
Woolwich and Greenwich MP Nick Raynsford said it was his understanding that one person, a serving soldier, was dead and his two alleged killers were taken to hospital.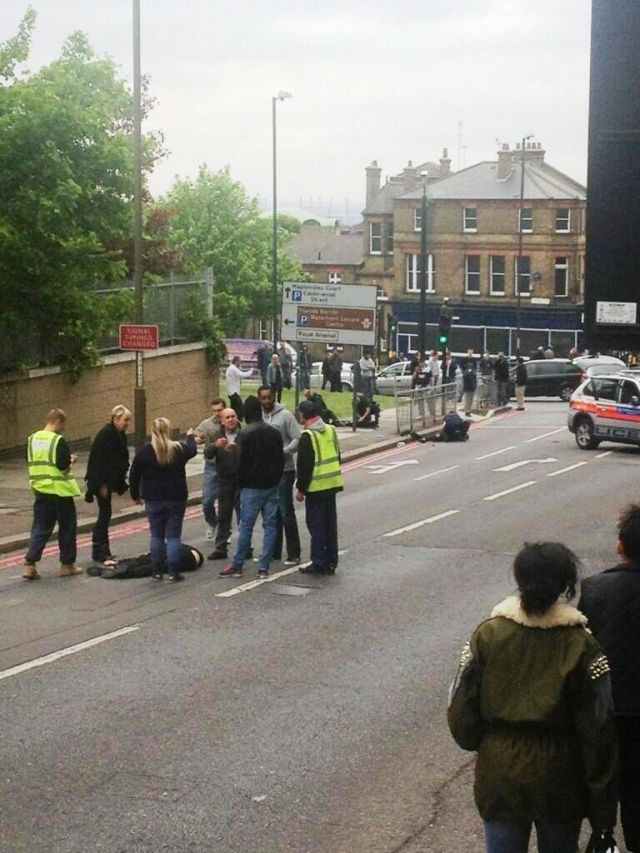 WARNING: Graphic content in pictures above & below
Police and ambulances have been called to Woolwich after reported shooting and machete attack
London Ambulance Service have confirmed one man has died
Two further men have been taken to hospital with serious injuries
Wellington Steet sealed off, John Wilson Street shut in both directions between Artillery Place and New Ferry Approach
Traffic is heavy in the area and queueing as a result
Email your photos of the scene to newsroom@london.newsquest.co.uk
Did you see what happened? Call the newsroom on 01689 885726.