Archaeologists have discovered the lost city of Mahendraparvata in the Cambodian jungle. The 1,200-year-old city, which some are comparing to Atlantis, had been lost for over 1,000 years. The discovery was made with the help of a new form of laser scanning technology called LIDAR that "fires rapid laser pulses at the landscape while a sensor mounted on it measures the amount of time for each pulse to bounce back. Then, by repeating the process, the instrument is able to build up a complex picture of the terrain it is measuring. Much more including a video report below.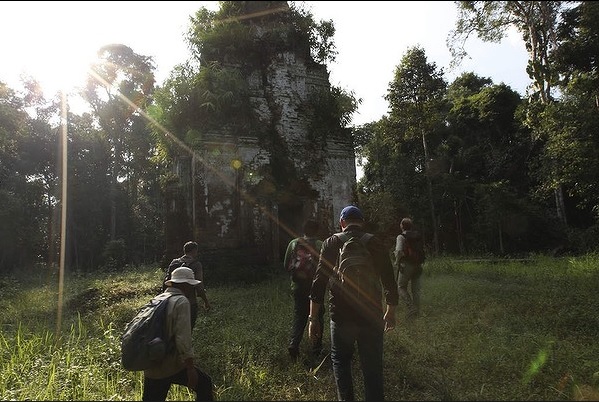 Archaeologists may have unearthed in the jungles of Cambodia an Atlantis-like city believed to be 1,200 years old.
The Sydney Morning Herald reports that an Australian-led team painstakingly peeled back the veil of land mine-borne danger and suffocating jungle previously shrouding the city of Mahendraparvata from discovery.
"This is where it all began, giving rise to the Angkor civilization that everyone associates with Angkor Wat," Damian Evans, director of the University of Sydney's archaeological research center in Cambodia told The Herald, referencing the Hindu temple complex built in the 12th century that is the largest religious monument in the world.
Published on Jun 17, 2013
Source:
http://beforeitsnews.com/international/2013/06/1200-year-old-lost-city-unearthed-in-cambodian-jungle-video-report-2460506.html
Also see:
Revealed: A 1200 Year-Old Atlantis-like Lost City and a Holy Temple in Cambodia
A mist-covered mountain in Cambodia gives up its treasure, writes Lindsay Murdoch.
Scratched and exhausted, Damian Evans pushed through dense jungle into a clearing where mountain villagers long ago attempted to grow rice, stepping on to a weed-covered mound.
"Bingo," the Australian archaeologist said as he picked up and examined an ancient sandstone block.
"This is a collapsed temple that was part of a bustling civilisation that existed 1200 years ago … It looks like the looters were unaware it was here."
LOST CIVILIZATION IN CAMBODIA
Bhuddas carved into the mossy rock face. Photo: Nick Moir
Over the next few hours Evans and a small group of archaeologists hacked through more landmine-strewn jungle and waded through swollen rivers and bogs to discover the ruins of five other previously unrecorded temples and evidence of ancient canals, dykes and roads, confirming data from revolutionary airborne laser-scanning technology called lidar.
The discoveries matched years of archaeological ground research to reveal Mahendraparvata, a lost mediaeval city where people existed on a mist-shrouded mountain called Phnom Kulen 350 years before the building of the famous Angkor Wat temple complex in north-western Cambodia.
Subsequent searches have identified another two dozen hidden temple sites.
by Lindsay Murdoch
The Sydney Morning Herald
Read more: