Before It's News Exclusive by Deborah Dupré
UPDATE: April 3, 10:40 EST
Correction: Official charts showed that MH370 departed Kuala Lumpur from gate C24. After that, charts and radar data were deleted on public access flight websites by unknown entities. Such data was even deleted on Facebook pages.
Deborah Dupré at Before It's News has been advised on Thursday by a professional in Malaysia that Malaysia Airlines Flight MH370 had a last minute gate change.
Passengers were scheduled to depart from Gate C24. However, at the last minute, there was a gate change from C24 to C1, according to a trusted source in Malaysia.
There is no C1 gate on Malaysia Airlines official terminal map dated 2012.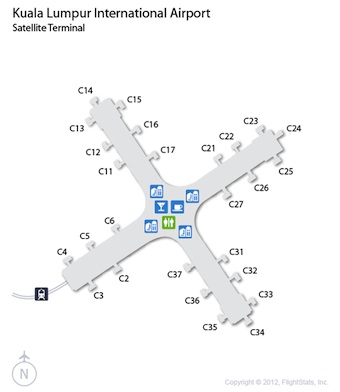 A 2014 Google map of the terminal shows Gate C1: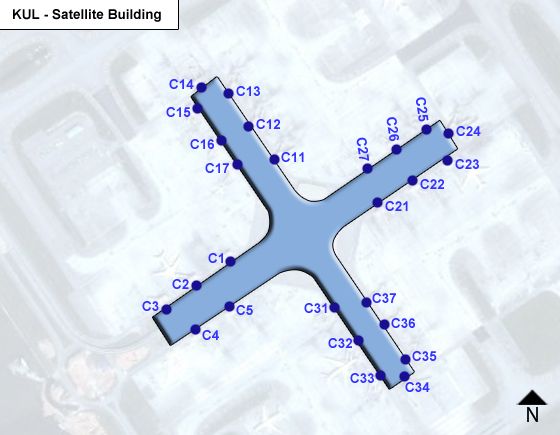 It is now confirmed that two United States-led military Search and Rescue training exercises were being conducted in the exact same region of this unprecedented missing plane crisis.
Expert SAR military personnel from several countries have been right there in the region but have not released data on the missing plane and its clone used in the missing plane operation.
William quit operational service in the military after seven and a half years; completed his tour of duty with the Royal Air Force Search and Rescue Force at RAF Valley, Anglesey; and formally retained his commissions as an officer in the Army, Navy and Air Force, although not classified as a reservist, who could be called up again to active service in an emergency. (The Express)
In a statement, his office at Kensington Palace said William would continue supporting work of the Queen and the Royal Family through a programme of official engagements, both at home and overseas, with the Duchess of Cambridge.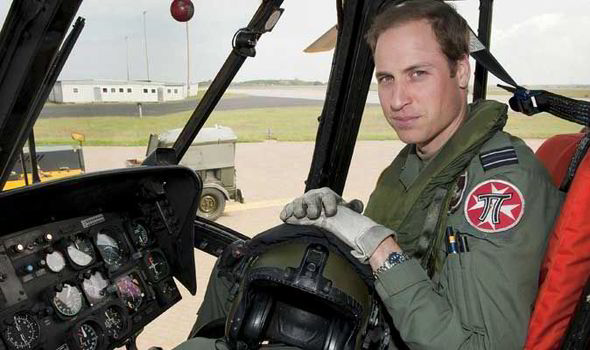 "William's decision to leave the RAF means that in theory the taxpayer will be about £400,000 out of pocket, as search and rescue pilots are usually expected to undertake two tours of duty before the costs of training them are recouped," the Express reported. "
However, the RAF argued that the taxpayer would still get the money back because William would continue to be an officer and serve his country."
William landed in the Maldives, north of Diego Garcia, and remained in the area at least four days. He was there as the missing Malaysia Airlines plane flew there heading south toward Diego Garcia, according to radar data, eyewitnesses, and media reports. He then flew to Australia, now at the helm of the SAR.
Unanswered Questions About Malaysia Airlines Departures and Passengers March 7 that Warrant Answers:
1) From which gate did MRQ, a second plane involved in this crisis (see below), depart?
2) Where did the five (5) ticketed people who checked in to fly on MH370 to Beijing, but did not board MRO go?
3) Who were those five (5) who did not board and why has the public not been advised of their identities?
4) Who were the 4 (5)? persons on standby who boarded MH370 at the least minute?
Original Story: Verified Malaysia Airlines Timeline, Flight Path
The expert investigative team assigned to the Malaysia Airlines missing plane and corporate media have withheld much known timeline and flight path data from the public. Officials now admit much of this data is sealed, as just announced in Beijing.
Some of this censored information regarding the timeline and flight path, however, has been compiled to
present
here. It is all
supported by official airline data, radar reports and maps.
Clarifications
Before reviewing the timeline and flight path according to events and official data collected during the first three weeks of the disappearance of Malaysia Airlines Flight MH370 crisis, it is imperative to step back and review locations of two Malaysian Airline Boeings involved in this event.
The plane that is "missing," according to Malaysia Airlines and its international investigative team, is a Boeing 777-2 registration 9M-MRO. It operated March 8th as flight MH370 Kuala Lumpur to Beijing. Needing discussion and further reference is a Boeing 777-2, also owned by Malaysia Airlines, Registration 9M-MRQ.
To prevent confusion in presenting data on these two aircraft, 9M-MRO will be called "O" (the missing plane) and 9M-MRQ will be called "Q" (the other suspect aircraft).
Some might have reviewed the flight history of MH370 and flights between Kuala Lumpur and Beijing before this humanitarian crisis. Note that before this crisis, FlightAware, a preferred flight information service, did not record/and or track for public view flights for Malaysia Airlines flights originating in Beijing.
History of 9M-MRO – 'O'
Below is the history and location of "O" in days before March 8th, according to LIBHOMERADAR.org, with UTC times converted to MYT, Malaysia time.
Between March 6th and 7th, "O" operated as flights MH72 and MH73. It flew from Kuala Lumpur to Hong Kong and back to Kuala Lumpur.
On March 7th, , the day before the disappearance, "O" departed Kuala Lumpur at 12:54 am to Beijing as MH370.
At 3 hours into a 5+ hour flight, after reporting its carrier and flight information, there was another report of "O" operating in the area, without an assigned flight or associated airline attached to it.
On March 7th "O" flew back from Beijing to Kuala Lumpur as flight MH371. It remained at the Kuala Lumpur Airport until it departed for its now infamous flight, making contact with radar at 12:45 am on March 8th.

History of 9M-MRQ – 'Q'
Below is a short history of "Q" in the days before the "missing" plane crisis.
Note: The history and dates of flights listed for MRQ show the flight in very high demand. It made several flights daily. In weeks before the crisis, it took no more than 1 day off.
On March 5th, the aircraft "Q" flew into Kuala Lumpur from Beijing as flight MH371. Then, it did not operate again until March 9th when it replaced the infamous missing plane and flew out as MH370 (as seen in the chart below).
Malaysia Airlines and this aircraft Q broke routine here. Aircraft Q It had been unused at Kuala Lumpur Airport from March 5th through March 9th, according to flight records. This means plane "Q' was in Kuala Lumpur the day MH370 vanished.
Was this aircraft intentionally brought into Kuala Lumpur in anticipation of its need? Could it have been involved?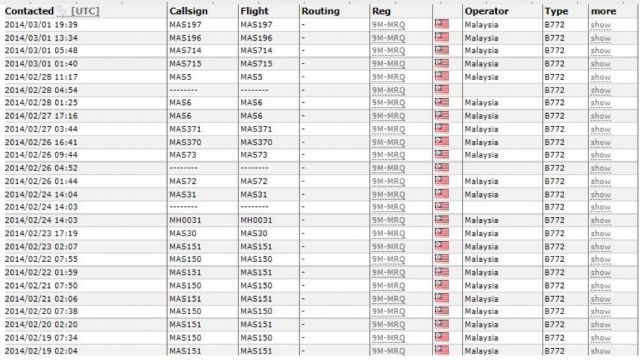 Timeline Beginning March 8
The previous section proved easy in creating this timeline. Reports regarding exacting where MH370 was on radar and what it was doing were not that easy, of course. One main reason, however, is the official story continued to change.
A timeline of events gathered from multiple sources, with times and dates have converted to Malaysian time (MYT) are below.
12:41 am: Flight MH370 plane "O" departed Kuala Lumpur (KLIA), from Terminal M, Gate C1.
01:20 am: Communication was lost with Vietnam control department in Ho Chi Minh City (1), the same time that the flight vanished from FLightRadar24.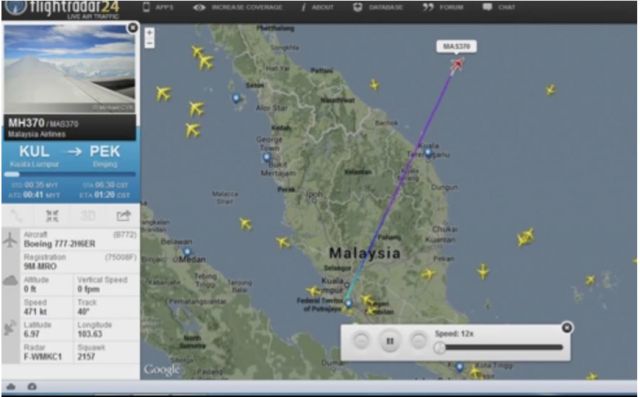 02:40 am: Flight MH370 lost contact with the Subang air traffic control near Kuala Lumpur. (1)
This is where the exact time ends. After this point, multiple differing official reports began to be presented.
March 8 report: Vietnam reports a signal detected from the plane was 120 nautical miles (140 miles; 225 kilometers) southwest of Vietnam's southernmost Ca Mau province (2) MH370 climbed to 45,000 feet soon after it disappeared from civilian radar and turned sharply toward the west, according to a preliminary assessment by a person familiar with the data, according to a March 15th Report. (3)
March 9: Radar from March 9th for the 2nd plane "Q" shows its altitude of 49,000 feet and making a sharp turn at 1:20 am.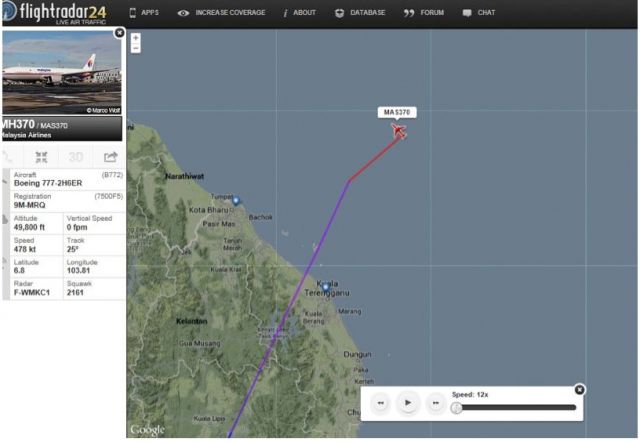 Investigators examined data transmitted from the plane's Rolls-Royce engines. They reported the data showing it descended 40,000 feet in the span of a minute, according to a senior American official briefed on the investigation. Investigators, however, do not believe those readings are accurate because the aircraft would most likely have taken longer to fall such a distance. (3)
Reports From Second Plane Begin
At this point, it seems that information began being reported from a different plane, defying logic.
March 11th report: The prime minister confirmed that Malaysian air force defense radar picked up traces of the plane turning back westwards, crossing over Peninsular Malaysia into the northern stretches of the Strait of Malacca. (8)
March 15th report: From this point onwards the Royal Malaysian Air Force's primary radar data showed an aircraft, believed, but not confirmed to be MH370, did indeed turn back. It then flew in a westerly direction back over Peninsular Malaysia before turning northwest. Up until the point it reportedly left military primary radar coverage, these movements are consistent with deliberate action by someone on the plane. (7)
March 15th report: The radar track, that the Malaysian government has not released but says it provided to the United States and China, showed the plane then descended unevenly to 23,000 feet, below normal cruising levels, as it approached the densely populated island of Penang. There, officials believe, the plane turned from a southwest-bound course, climbed to a higher altitude, and flew northwest over the Strait of Malacca toward the Indian Ocean.(3)
LIBERHOMERADAR states last contact with "O" MH370 was near Bangkok, Thailand
on March 7. (See
two images below.)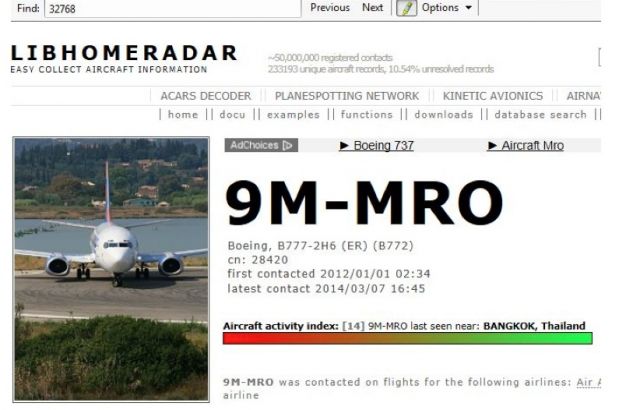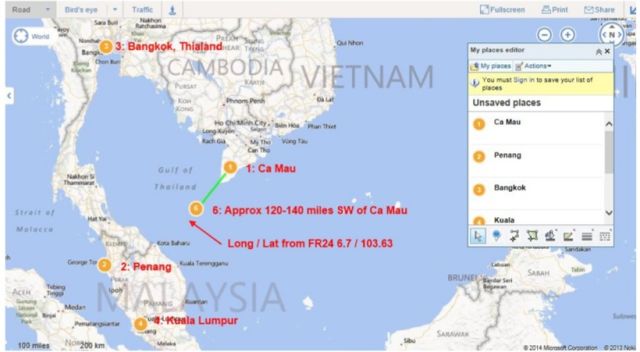 March 24th report: Military radar tracking showed the missing aircraft changed altitude after making a sharp turn over the South China Sea as it headed towards the Straits of Malacca, A source close to the investigation states that the plane flew as low as 12,000 feet at some point before vanishing from the radar. (4)
The flight path of MH370 as of March 24th is depicted in the map below.(5)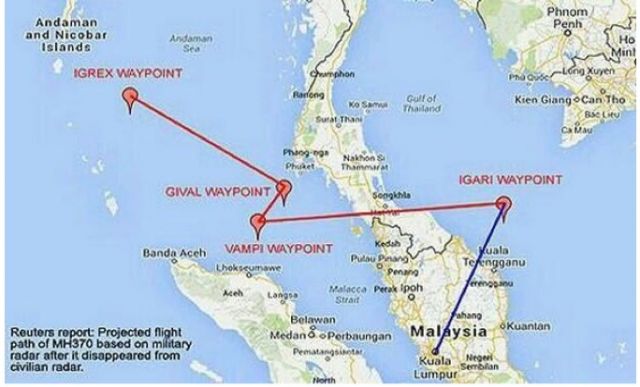 March 8
March 8, 6:30 am: Residents of the remote Maldives island of Kuda Huvadhoo in Dhaal Atoll saw a "low flying jumbo jet", the same morning the Malaysia Airlines flight MH370 "disappeared."(6) These accounts are among the only evidence that exists regarding the crisis. The mysterious and sordid Diego Garcia island, south of where the islanders sighted a jumbo, is a military base with a sizeable landing strip, US military personnel, and one of the black sites where the US has secretly transported and detained so-called terrorists.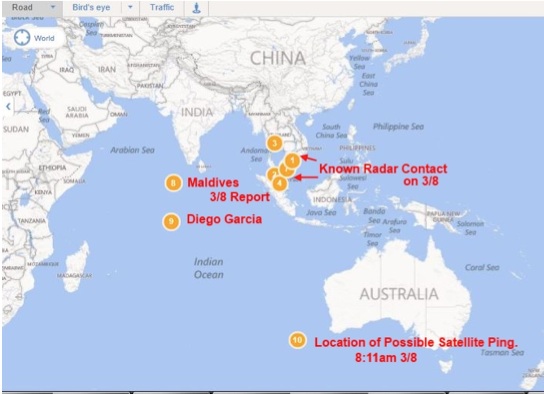 March 8, 8:11 am: Inmarsat states last satellite communications handshake occurred along a 40 degree angle from its satellite. Inmarsat stated they concluded beyond doubt the location was at southernmost end of the projected arc over the southern Indian Ocean.
Deborah Dupré extends sincere gratitude to silent contributors of this article, who requested they not be named. She also extends deep sympathy and solidarity to all Malaysia Airlines victims of this crisis, including Malaysia officials.
Email gdeborahdupre@gmail.com Follow on Twitter @DeborahDupre Read all of Dupré's MH370 articles here.
Source:
http://beforeitsnews.com/events/2014/04/update-facts-about-2-malaysia-planes-used-in-crisis-youve-not-been-told-2432912.html