Als wij de media en onze politici moeten geloven staan wij aan de vooravond van een Russische aanval op het Westen. Rusland is gevaarlijk, Putin is de weg kwijt en alles wat er in de Oekraïne gebeurt, gebeurt in opdracht van Putin. Dat is de boodschap die steeds meer mensen omarmen als waarheid. En waarom geloven mensen dit?
Omdat het bewezen informatie is? Neen, dat is het niet. Er wordt helemaal niets bewezen. Er worden sancties afgekondigd omdat Westerse machten menen dat Putin achter de hele oproer in de Oekraïne steekt. Maar waar is het bewijs? Waarom wordt er geen onderzoek verricht naar de schutters op de Maidan, de zogenaamde vreedzame demonstratie waar Westerse machten bemoeienis in hadden omdat er financieel gewin in zit. Die bemoeienis is ronduit aangetoond.
Geef mij één reden waarom het Oekraïense volk zou kiezen voor een lening van het IMF in plaats voor een lening van Rusland.
De lening van het IMF houdt in dat pensioenen in dat land gehalveerd zullen worden, gas en olie prijzen stijgen met 100 % premies voor pensioenen ook met 100% en de bevolking zal de komende jaren zwaar moeten bezuinigen, zo zwaar dat het leven haast ondraaglijk wordt.
De lening van Rusland had geen voorwaarden. Het gas zou goedkoop blijven en de bevolking hoefde op geen enkele wijze te bezuinigen.
Het grote Rusland bashen is begonnen. De door de elite gemanipuleerde mediakanalen vertellen de ene na de andere leugen. Aannames worden geprint alsof het waarheid is zoals de melding vanuit België dat Rusland de computers van de Belgische overheid heeft gehackt. Geen splinter bewijs is er voor die stelling, enkel het gegeven dat er documenten met inhoud over de Oekraïne zijn gedownload vanaf de computers van de Belgische overheid geeft de media klaarblijkelijk het recht Rusland als dader aan te wijzen en ook als zodanig af te drukken in de kranten wereldwijd. Zo ontstaat langzaam maar zeker een beeld van de Russen dat eerder van moslims gekweekt werd. Een vijand die wij met zijn allen dienen te bevechten.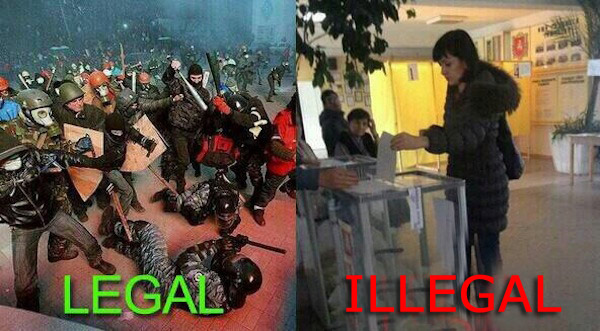 Rusland wordt als de grote agressor neer gezet en ik ben met stomheid geslagen hoeveel mensen klakkeloos aannemen wat kranten en andere media vertellen. Na decennia leugens over Irak, Afghanistan, Libië en Syrië, leugens die niet alleen door ons maar heel veel kanalen zijn blootgelegd, zelfs af en toe door de kanalen die de leugens verspreid hebben zoals de New York Times die de leugen vertelde dat Ghadaffi
6000 burgers op zijn geweten had
, ze in koelen bloede had laten afschieten als dolle honden, de stelling waarmee de VN en Westerse machten een No Fly Zone afdwongen boven Libië en deze misbruikten om heel Libië te bombarderen en de door het Libische volk gekoesterde leider publiekelijk afschoten en door de straten achter een auto getrokken werd. Die stelling is door de New York Times gerectificeerd maar dat heeft onze nieuwskanalen niet bereikt. De stelling bleek uit de duim gezogen. De 80.000 burgerslachtoffers in Libië echter niet, die slachtoffers zijn daadwerkelijk dood en Libië is na 40 jaar van vooruitgang terug gebombardeerd naar de Middeleeuwen met jihadisten in elke stad als garantie voor de komende nodzakelijke onrust.
Ook in Syrië zien wij wat de Westerse bemoeienissen teweeg brengen. Was er überhaupt al sprake van een echte oppositie in Syrië, dan is die nu verdwenen. Wij krijgen verhalen voorgeschoteld van een walgelijke dictatoriale leider die mensenlevens niet op waarde kan schatten maar de Syrische bevolking heeft alles van dichtbij meegemaakt en weet precies wat er aan de hand is. Dat is ook de reden waarom momenteel het hele Syrische volk achter Bashar Assad staat. Miljoenen mensen betuigen steun aan Assad en het regeringsleger, soldaten in bevrijde gebieden worden als helden ontvangen en door het volk gekoesterd, de orde lijkt hersteld te kunnen worden nu ook één van de laatste bolwerken van de huurlingen gevallen is in de vorm van de stad Homs.
De oplossing van de Westerse landen m.b.t. Syrië was natuurlijk via de VN een mandaat krijgen om vervolgens de gewenste regering te plaatsen in Syrië opdat de machten achter de Westerse façade, hun ding konden doen. Een grootschalige aanval, dat was het geweldige vreedzame idee van de Westerse landen met natuurlijk de president van de Vrede, Barack Obama voorop. Deze oplossing voor alle problemen in de wereld kennen wij nu wel en heeft ons in laten zien dat dit helemaal geen oplossing is maar simpelweg imperialisme, niet eens om iedereen een beter leven te garanderen in de Westerse landen, neen, enkel een kleine selecte groep zal daarvan profiteren, die kleine groep die ook al de vruchten plukt van andere conflicten, de financiële elite.
Dankzij een veto van Rusland in de VR en China heeft het Westen die oorlog voorlopig in de koelkast moeten plaatsen maar onderhuids doen ze er alles aan om de amok die er nog steeds in grote gebieden is, hoog te houden en de uitgebluste huurlingen ( betaald moordenaars ) te voorzien van de modernste wapens en apparatuur. Alles om de vrede te bewaren nietwaar! Het is aan Rusland te danken dat Syrië niet net als Libië en Irak en andere landen, kapot gebombardeerd werd. Maar wie ging er met de winst ervandoor? Obama, want volgens de media was het de standvastigheid van Obama die Rusland zo ver kreeg Syrië te vragen hun chemische wapens in te leveren, wat heet, stoffen waarmee chemische wapens gemaakt kunnen worden. Die stoffen, waarvan onze journaals zeiden dat er tonnen lagen in Syrië, wat dan weer als bewijs zou moeten gelden voor de stelling dat het Syrische leger deze wapens ook daadwerkelijk inzette, heeft een gemiddeld Nederlands huishouden ook in het aanrechtkastje staan, wanneer komen ze die stoffen bij ons weghalen, wij bezitten immers allemaal over een chemisch potentieel wapens hiervan te maken?
Dan heb ik het nog geeneens over de opzichtige manier waarop een man, die vrouw wilde zijn maar toch maar een baard laat staan, in Europa tot beste act getorpedeerd werd omdat dit helemaal past in het manipuleren van de massa. Rusland is homofobisch en wij Westerlingen laten zien hoe tolerant wij zijn. Nu, ik durf je te garanderen dat wanneer iemand van ons met borsten en een baard een sollicitatie verricht bij een grote Westerse multinational, die persoon niet aan de bak zal komen. Mensen die menen dat dit wel zo is nodig ik graag uit enkele voorbeelden te stellen waaruit lezers kunnen opmaken dat hetgeen ik stel onwaar is. De verkiezing van die man/vrouw is pure haatzaaierij en een boodschap aan Rusland waarmee je er zeker van kunt zijn dat de hele puntentelling één groot bedrog is geweest. Deze figuur moest winnen, dat was van tevoren vast gelegd. Dat is mijn overtuiging.
Daarnaast wil ik ook nog even vertellen dat mijn kinderen vroegen wat het nou precies was en waarom ze nou precies was? De jongste van mij was zelfs ronduit gechoqueerd, en terecht als je het aan mij vraagt. Waarom zo right in de face? Waarom een vrouw willen zijn maar wel met baard verschijnen? Waarom worden onze kinderen geconfronteerd met een dergelijke aanstootgevende figuur? Wij tolereren alles? Was dat de boodschap? Niets is minder waar. De tolerantie jegens mensen die hetzelfde geslacht liefhebben is nog nooit zo slecht geweest in Westerse landen als vandaag de dag. Op TV en via promotionele uitingen doet de media het overkomen alsof bij ons alles kan, in werkelijkheid hebben
homofiele mensen in het Westen
meer te vrezen dan in Rusland. In Nederland en Westerse landen worden meer homo's in elkaar geschopt dan elders op de wereld. Gruwelijk gegeven waar ik zeker geen voorstander van ben maar kinderen voortdurend confronteren met smerige uitlatingen op Tv en radio programma's uit de monden van übernichten zoals Gordon en Joling, die geen gelegenheid voorbij laten gaan om te melden dat ze van dat sterretje wel eens een rondje willen maken, dat gaat mij persoonlijk veel te ver. Dit is dan ook niet incidenteel maar gebeurt veelvuldig. Je kan geen Nederlands kanaal meer aanzetten of dezelfde vunzig sprekende figuren zitten klaar voor het zoveelste achterlijke TV spelletje. Het lijkt wel alsof er niets anders meer te melden valt en dat het normaal is dat onze kinderen met deze vunzigheid dag in dag uit geconfronteerd moeten worden. Ik kan mij heel goed vinden in de wetgeving die Rusland heeft losgelaten als antwoord op deze ontwikkeling. Sterker nog, ik ben ook voorstander van de nieuwste wetgeving in Rusland waar TV programma's en andere zaken die educatief of recreatief zouden moeten zijn, onnodig vloeken verbiedt. Een goede zaak! Kijk eens naar een Amerikaanse film, van de twee woorden zijn er drie fuck, motherfucker, ho, suck my dick, etc. Niet bij voorkeur het taalgebruik dat ik mijn kinderen wil meegeven.
Maar hoe je het draait of keert, volgens onze propagandakanalen worden wij dagelijks getrakteerd op het onsje Rusland haat, net zoals ze ons al jaren inprenten via Disney filmpjes, stripverhalen etc. dat de moslims allemaal slecht zijn en gevaarlijk. Verbazingwekkend dat deze manier van manipulatie, die bovendien zo doorzichtig is, nog steeds werkt voor een hele grote groep Nederlanders en Europeanen.
De media als aanklager, rechter en beul.
De zaken die echt belangrijk zijn om uit te zoeken, zaken die ons allemaal aan gaan en met name onze kinderen, want zij zijn de toekomst, die zaken worden niet besproken, uitgezocht of anders onder de aandacht gebracht.
Waarom bijvoorbeeld is er nog steeds geen onderzoek geweest naar de verkoolde lijken in Odessa? Ik ga de beelden niet tonen omdat ik heb moeten janken toen ik ze zelf zag. Een zwangere vrouw die het gebouw in Odessa in gevlucht was bleek alleen vanaf haar middel naar beneden verkoold te zijn wat indiceert dat dit niets met de brand in het gebouw te maken heeft gehad, anders was ze wel helemaal verbrand. Zo beschadigd bleek het gebouw ook niet te zijn door de brand. De soms half verkoolde lichamen lagen soms in kamers waar helemaal geen brand gewoed had. Dat geeft aan dat die mensen wellicht letterlijk in vuur en vlam gezet zijn door hen die het gebouw bestormden en er brandbommen naar binnen gooiden, wie dat waren wil je weten? In elk geval was het niet Putin.
De mensen die het gebouw bestormden blijken van de ultra rechtse sector te zijn, die sector die momenteel deel uit maakt van de illegale interim-regering, samengesteld met en door mensen die bewezen crimineel, corrupt en moordenaars zijn. Ook hier heeft het Westen gekozen om net deze extremistische sector te steunen, net zoals ze in Syrië de huurlingen steunen en in Saoedie Arabië een moorddadige overheid die vrouwen systematisch onderdrukken, homo's ophangen en alles dat anders denkt van kant maken. Hoe kunnen mensen dit niet zien?
Geef mij één reden waarom Rusland als de vijand wordt gezien terwijl net aan Westerse kant de bewijzen van manipulatie, regime-change, betaalde huurlingen, ongeoorloofde inmenging, afluisteren, etc. zich opstapelen? Waaruit blijkt expansiedrift van Rusland? Kun je hier een antwoord op geven? Waaruit blijkt de expansiedrift van het Westen? Kun je hier een antwoord op geven? Loze dreigementen, net als met de Europese Unie, als wij daaruit vertrekken is Nederland ten dode opgeschreven. Waaruit blijkt dat? Is het niet zo dat de landen die niets met de EU te maken hebben beter draaien dan alle andere landen die wel aangesloten zijn bij de EU?
Het is de wereld op zijn kop maar ik had de hoop dat na al die eerdere buitenlandse hulpacties van het Westen naar Arabische en Afrikaanse landen, die later niets anders dan uit winst gedreven acties bleken te zijn, de wereld zou gaan inzien dat de media ons een rad voor ogen draaien en wij net de agressors zijn van de meeste brandhaarden op Aarde. Helaas. Als je de leugens maar vaak genoeg herhaald, en daar hebben de media een handje aan, dan gaat de kudde schapen dat vanzelf als waarheid zien. Alle eerder lessen uit onze recente geschiedenis vergetend.
Geloof niet zomaar alles wat je voorgeschoteld krijgt.
Wanneer iemand iets stelt dan dient die iemand dat ook te bewijzen.
Vanaf Libië doe ik regelmatig verslag van wat er aan de andere kant gebeurt. Ook ik wilde in eerste instantie niet geloven dat wij zo voor het spreekwoordelijke ootje genomen worden maar ik kan na Libië, Irak, Syrië en nu weer Venezuela en de Oekraïne tot geen andere conclusie komen dat de leugen regeert en de waarheid niet in de geschiedenisboeken van onze kinderen te lezen zal zijn als wij dit geen halt toe roepen.
Wat wij momenteel meemaken, een opgedrongen Europese bankenunie, politieke unie, manipulatie door de media in samenwerking met de politiek en multinationals, bedrijven die leven van oorlogen en deze ook mogelijk gemaakt hebben in het verleden en in het nu, is een periode die wij ook gezien hebben voor WO1 en WO2. Ook voor die conflicten werden mensen wereldwijd tegen elkaar opgezet met de vreselijke oorlogen als gevolg. Overheden die hun eigen burgers niet meer vertrouwen, waar mogelijk afluisteren, ongewenst registreren op autosnelwegen, supermarkten, op straat, op scholen, zelfs in je eigen huis. Waar extremisten gesteund worden met geld en middelen en mensen die willen praten, debatteren, voor hun rechten willen opkomen, geschoffeerd worden en als ondemocratisch worden weggezet, in een hokje gevaarlijk worden geplaatst. Zo'n samenleving staat aan de rand van de afgrond. De grote massa ziet het nog niet en is blij straks GTST weer te kunnen zien of de zoveelste achterlijke spelshow, die grote massa roept straks massaal weer, wir haben es nicht gewusst!