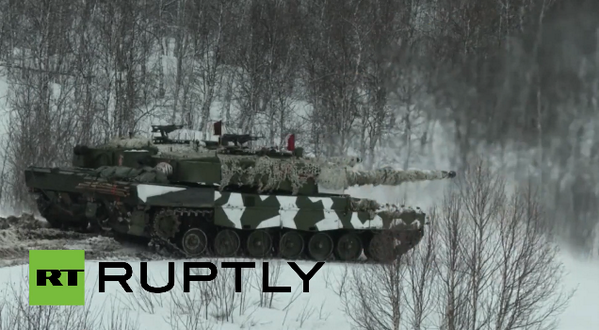 Around 16,000 soldiers hailing from 16 nations ventured to Nordland, Norway on Wednesday to test their air, land and maritime mettle as part of the UN-approved 'Cold Response' training exercise. The purpose of the exercise is to train international troops unaccustomed to extreme weather and cold conditions to perform combat operations in icy temperatures in the case of a crisis situation.


)

Andriy Parubiy, secretary of Ukraine's National Security and Defence Council, yesterday said that even Kiev may not be safe from Putin's troops, who were regrouping in 'an offensive manner'.
Mr Parubiy claimed the forces massing included 'over 80,000 personnel, up to 270 tanks, 180 armoured vehicles, 380 artillery systems, 18 multiple-launch missile systems, 140 combat aircraft, 90 combat helicopters and 19 warships and cutters'.
He added: 'Critical is the situation not only in Crimea, but along the entire north-eastern frontier. In fact, Russian troop units are two or three hours of travel from Kiev.'
Source
(Photo: The allege targeted territory Russia will invade in the upcoming offensive)
The Russians acknowledge their troops along the border with Ukraine but just said it was military drills. What they failed to mention was after the last military drills they invaded the Crimea. Putin and the Russian army took the Crimea with a shot fired. You gotta admit, that's brilliant in any geopolitical situation.
Below is a video from VICE who has a reporter in the Crimea/Ukraine who yesterday went to both sides frontline on the Northern Front of Crimea/Kherson region. I found it interesting because it shows what both sides troops are doing.


Source:
http://beforeitsnews.com/alternative/2014/03/ww3-update-16000-nato-troops-in-norway-80000-russian-troops-on-ukraine-border-video-2917438.html