Terwijl we hier in Nederland wachten op een goed onderbouwd antwoord op de vraag wat er precies gebeurd is rondom de oorzaken van de ramp met de MH17, blijkt op internet veel deugdelijk materiaal op te duiken. De kracht van internet is maar weer eens bewezen; informatie die als een brandende lont de wereld over flitst en andere mensen weer inspireert verder te zoeken naar diepere zaken.
Dat heeft niet alleen goede resultaten opgeleverd, maar zorgt ook voor nogal wat verwarring. Foute informatie, foute conclusies en ook opzettelijke desinformatie zijn te vinden rondom deze ramp. Wij van WantToKnow proberen naar beste kunnen en inzichten dát materiaal aan te bieden, wat ónze filters mag en kan passeren.
Dit betekent vanzelfsprekend dat we sowieso niet alles maar lukraak aannemen en plaatsen. Fundamentele informatie die we onder ogen krijgen, wordt gecheckt en in een groter kader geplaatst. Vaak gebeurt dit passen van het puzzelstukje pas na enkele dagen, ja zelfs na enkele weken soms pas.
Inmiddels blijkt dat veel materiaal ook van bijvoorbeeld Facebook verdwijnt, dat mensen plaatsen als belangrijke info op hun tijdlijn. Hoe dit kan en wie dit doet is nog de vraag, maar mocht je hierover meer willen lezen, dan verwijzen we je graag naar

DIT ARTIKEL

van onze collega's van onze collega's van Niburu.Wij hebben in ons artikel van dit weekend (HIER) al laten zien, dat een essentiële BBC-reportage uit Oost Europa niet alleen van het internet verdwenen is, maar ook van websites wordt onderuit getrokken..!
Maar er is meer, want velen valt het op, dat de regering Obama, ná het luid trompetgeschal dat de 'schuldigen' aanwees van het neerstorten van de MH17-Boeing van Malaysia Airlines, VOLLEDIG IN GEBREKE BLEEF met het aanleveren van bewijsmateriaal.
Het was nota bene woordvoerster Marie Harf van het Amerikaanse ministerie van Buitenlandse Zaken die nota bene een journalist van persbureau Associated Press (AP) in een persconferentie verwees naar Social Media, zoals Facebook en YouTube, voor verdere informatie over de oorzaken.. (

HIER

)
Hoe krankzinnig moet het worden..? Maar waarom is er nu ineens een radiostilte rondom deze ramp..? Waar komt deze bizarre 'rust' vandaan, die niet alleen afkomstig is van de VS-regering, maar -hoe is het mogelijk..?- ook van de gezamenlijke media..
En terwijl de ene na de ene vrije journalist met een verhaal vol twijfel komt over de krankzinnige beschuldigingen van de VS aan het adres van Rusland, zwijgen de grote kranten. Zij hadden immers al gekozen om als schaapjes de Amerikaanse media te volgen en vooral niet kritisch te zijn. Voor de Telegraaf bijvoorbeeld waren de separatisten al moordenaars..! Nog geen bewijs te zien, geen vraagteken achter de beschuldiging (Moordenaars?), maar keihard en vooral uiterst DOM achter de VS aan. Vergeten kennelijk dat mw. Victoria Nuland, onderminister van Buitenlandse Zaken, nog maar een paar maanden geleden had geroepen: 'FUCK THE EU!'
We plaatsen als hoofdartikel graag een vertaling van een artikel van Niles Williamson van World Socialist Web over deze veelzeggende stilte, die de media nu domineert in het kader van de MH17-catastrofe..!
x


MH17: Waarom zijn Obama en de media zo muisstil..?
2014 © 1998-2014 World Socialist Web Site – Niles Williamson
2014 © vertaling WantToKnow.nl/.be – Guido Jonkers
x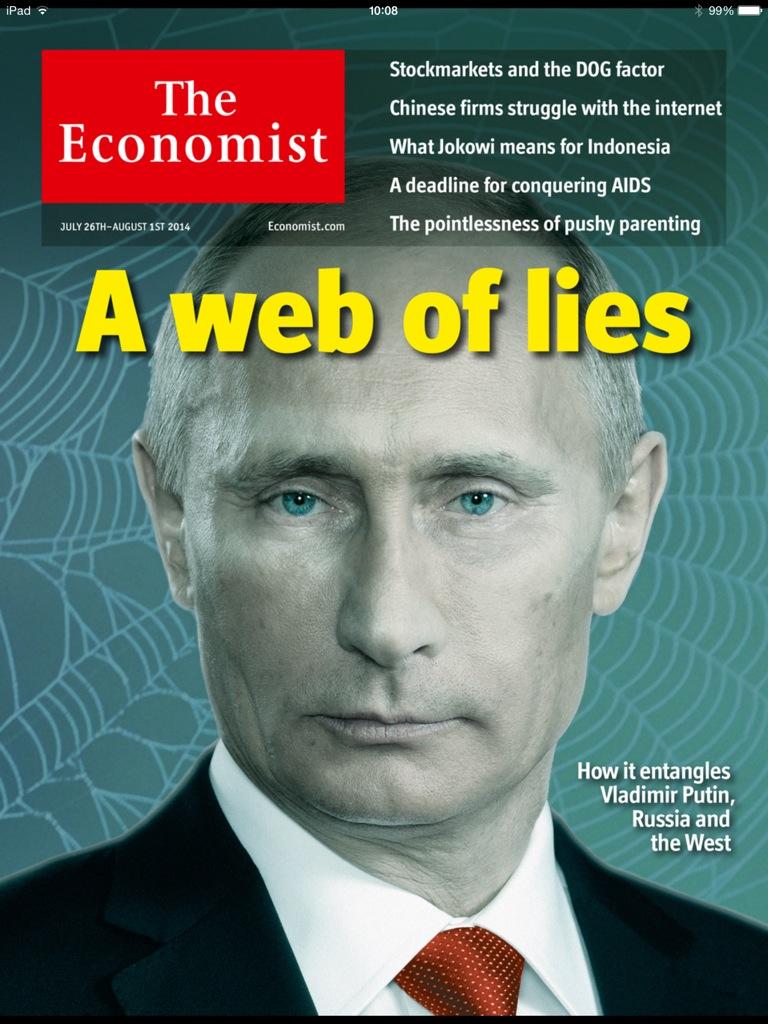 De oorverdovende stilte van de media in de VS en van de VS overheid in het kader van het onderzoek naar het neerhalen van Malaysian Airlines vlucht MH17, een maand geleden, riekt naar een cover-up. Het lijkt alsof er iets afgedekt dient te worden, wat verder niet in de publiciteit dient te komen. In de uren en dagen onmiddellijk ná de crash, werd de schuld ervan, zonder ook maar EEN SPATJE BEWIJS, door regerings-medewerkers van de VS toegeschreven aan het afvuren van een BUK-raket (SA-11) door pro-Russissche separatisten, die een groot gebied in Oost-Oekraïene in beheer hadden. Deze mensen kregen al na een uur op CNN de schuld in de schoenen geschoven..!
Er werd door de Amerikanen een keiharde politieke campagne gelanceerd, waarbij het doel was om harde economische sancties tegen Rusland voor elkaar te krijgen en de positie van de NAVO in Oost Europa te versterken. De honden van de CIA in de Europese en Amerikaanse media, afgaande op de geur, legden de schuld voor de crash van de MH17 volledig bij president Vladimir Poetin.
De cover van het Duitse blad 'Der Spiegel' van 28 juli jl. toonde een foto van de slachtoffers van de ramp, met daarom heen in grote rode letters: 'STOP PUTIN NU!'… En een artikel in het kwaliteitstijdschrift 'The Economist' verklaarde op 26 juli Poetin tot de 'auteur van de MH17-vernietiging', waarbij het tijdschrift het gezicht van Poetin had verweven met een spinnenweb op de cover, met daarbij de tekst 'Poetin's web van leugens'..
Iedereen die de vergelijking heeft gemaakt met de 'nieuwsberichten' die verspreid werden over Mohammar Khadaffi en Sadam Hoessein destijds, kon simpel concluderen dat het de bedoeling was van Washington, dat natuurlijk achter deze publiciteitsgolf stak, dat het de bedoeling was om de Russen klaar te stomen voor een andere leider, zoals dat in Libië en Irak ook was gebeurd. Maar dit keer ging het om een andere tegenstander, een nucleair-gewapend land dat door de VS uiterst risicovol naar een oorlog werd gedreven.
En plotseling is het over..??!!
Maar nadat deze crash zorgvuldig werd gebruikt om een complete casus tegen Rusland klaar te stomen, is ineens de belangstelling weggevallen bij de media in de VS. Sinds 7 augustus bijvoorbeeld heeft de Zionistische New York Times het niet meer nodig gevonden ook maar één woord te besteden aan de MH17-crash..!
Er is geen onschuldige verklaring voor het plotselinge verdwijnen van MH17-nieuws uit het media- en politieke spotlicht.. De zwarte dozen -onbeschadigd zoals iedereen heeft kunnen zien!- worden al weken 'ONDERZOCHT' in Engeland, en bekend is dat zowel Amerikaanse als Russische spionagesatellieten en militaire radarinstallaties het oostelijke deel van Oekraïene hebben gescand, tijdens de dagen rondom de crash.
Het is uiterst ongeloofwaardig dat de VS geen gedetailleerde kennis heeft van de omstandigheden rondom de crash van de Malaysian Airlines-Boeing en de erbij betrokken krachten. Daarbij is het ook volkomen logisch te stellen, dat wanneer Washington materiaal in handen zou hebben dat beschadigend zou kunnen zijn voor Rusland en de door Rusland gesteunde separatisten, dit materiaal toch wel via een agressieve media-campagne naar buiten zou zijn gekomen..!!
En DUS kunnen we rustig stellen, dat in het politieke gevecht de vingerwijzing steeds nadrukkelijker en krachtiger op de betrokkenheid van de, door de VS en Europa gesteunde 'regering' van Oekraïene komt te liggen… Hoe pijnlijk die constatering ook is..!
x
Vanaf het begin, kwam er van de regering Obama geen enkele bewijsvoering om de opstokende beschuldigingen te staven dat Vladimir Poetin verantwoordelijk zou zijn voor de crash van de MH17. Tijdens zijn pers-briefing van 18 juli, één dan ná de verschrikkelijke ramp, maakte Obama het statement dat het 'NOG TE VROEG WAS OM TE RADEN NAAR DE INTENTIES VAN DEGENEN DIE DIT SURFACE-TO-AIR-PROJECTIEL GELANCEERD ZOUDEN KUNNEN HEBBEN'… ('It is still too early for us to be able to guess what the intentions of those who might have launched this surface-to-air missile might have had.')
Terwijl hij cynisch de crash exploiteerde om de druk op Rusland op te voeren, waarschuwde deze meneer Obama terloops, dat het 'aannemelijk is dat er misinformatie rondom het bergen van de wrakstukken zal plaatsvinden'.. En in een bevestiging dat hij werkelijk geen bewijs kon tonen van al zijn claims, voegde hij eraan toe:
"In termen van het specifiek identificeren van het individu, de groep van individuën of het personeel dat de opdracht gaf voor deze aanval, hoe het zo is gekomen, dat zijn zaken waarvan ik denk dat ze nog steeds onderwerp zijn van aanvullende informatie die we nog zullen verzamelen."
Maar voor de goede orde:
DEZE MH17-MISINFORMATIE KWAM VAN DE REGERING OBAMA ZÉLF..!
Het was de Minister van Buitenlandse Zaken, John Kerry himself, die op een soort media blitz op 20 juli, de wereld liet weten, dat de pro-Russische separatisten EN DE Russische overheid verantwoordelijk waren voor het neerschieten van de Boeing 777. En het ENIGE BEWIJS dat deze man durfde presenteren, waren uiterst dubieuze 'Social Media opnames' die waren gepost op internet. Zo presenteerde meneer Kerry ongeautoriseerde audio-opnames van separatisten die met elkaar gesproken zouden hebben over een 'vliegtuig-crash'. Maar deze opnamen zijn gemaakt en op het internet gezet door… DE CIA..!! Het blijkt namelijk dat deze CIA als 'adviseur' nauw samenwerkt met de geheime dienst in Oekraïene, de SBU. En als deze CIA zo nauw samenwerkt, zal het namelijk niet buiten medeweten zijn geweest van de CIA, dat deze SBU de filmpjes heeft gepost…
Het gaat hierbij om YouTube-clipje nota bene, waarin je een legertruck ziet, die ongeïdnetificeerd militaire uitrusting vervoerd over een weg. En om een teruggetrokken social-media-statement waarbij de verantwoordelijkheid voor het neerhalen van het verkeersvliegtuig zou zijn bevestigd door separatistenleider Igor Strelkov.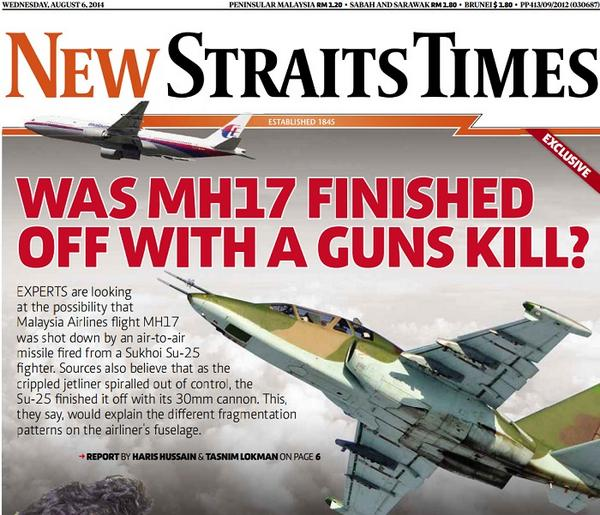 Snel daarna begon het verhaal van de VS-regering, rondom het neerstorten van de MH17. in elkaar te storten.
Op een persbijeenkomst op 21 juli, verklaarde mevrouw Marie Harf, woordvoerder van Binnenlandse Zaken van de VS, en tevens voormalig CIA-Midden Oosten-analiste, dat de conclusies van de Obama-regering met betrekking tot het neerhalen van de MH17, 'gebaseerd waren op open informatie, die feitelijk 'common sense' is'. Toen deze dame door journalisten werd uitgedaagd om met hard bewijs te komen, moest ze toegeven, dat dat er HELEMAAL NIET WAS…!!!
Dit is letterlijke tekst van mevrouw Marie Harf:
"I know it's frustrating. Believe me, we try to get as much out there are possible. And for some reason, sometimes we can't."
Of in goed Nederlands:
'Ik weet dat het frustrerend is, maar geloof me, we proberen zoveel mogelijk daar vandaan te krijgen als mogelijk. En om de een of andere reden, LUKT DAT NIET'…
We kunnen nu, NA 1 MAAND toch wel concluderen, dat Washington gefaald heeft om bewijs op tafel te leggen, waaruit blijkt dat haar claims over de 'schuldigen' juist zouden zijn..? DAT HET POLITIEKE OFFENSIEF TEGEN POETIN, VANUIT DE NATO-LEDEN EN DE MEDIA-HETZE TEGEN POETIN, GEBASEERD IS OP LEUGENS..?
De vraag is DUS nu, half augustus, waar DAT KEIHARDE bewijs blijft en waar we allemaal mee bezig zijn, in het kader van -op geen andere manier te kwalificeren dan- krankzinnige sancties tegen Rusland nu feitelijk op gebaseerd zijn..!!
Wie wijst, wijst wellicht op zichzelf..!!
Geloof het nou maar: wanneer pro-Russische troepen een zogenaamde 'ground-to-air missile' zouden hebben afgeschoten, zoals de VS-regering beweert, dan zou de Amerikaanse defensie/luchtmacht daarvan ZONDER ENIGE TWIJFEL, beelden van hebben. Het 'US Air Force's Defense Support Program' gebruikt satellieten met infrarood sensoren, om raketlanceringen te detecteren, OVERAL OP DE PLANEET..!
Radarposten van de VS en/of NATO zouden dit projectiel hebben waargenomen als het de Aarde verliet vanaf de lanceerinrichting. En aangezien deze satelliet- en radarbeelden NIET ZIJN VRIJGEGEVEN, kunnen we concluderen, dat wat ze te zien geven, helemaal niet klopt met het verhaal zoals het door de VS-regering en de media wordt verkocht.
Maar wat hiervoor in de plaats lijkt te ontstaan is een behoorlijke basis van bewijs, dat naar het door de VS-gesteunde bewind in Kiev wijst.. Wat is de rol van Kiev in het neerhalen van de MH17? De dag na de opmerkingen van John Kerry aan de wereld, presenteerde de Russische militairen de radar- en satellietbeelden, dat een Oekraiens gevechtsvliegtuig, een SU-25, in de onmiddellijke nabijheid van de MH17 was geobserveerd, vlak voordat het vliegtuig werd neergeschoten. Deze claim is totaal genegeerd door de Amerikanen, laat staan dat ze deze claim hebben kunnen weerleggen..!
Het zijn NSA-klokkenluider William Binney en andere, gepensioneerde Amerikaanse agenten van inlichtingendiensten, die eind juli al opriepen om een onderzoek in te stellen naar het 'Social Media-bewijs' dat John Kerry aan de wereld presenteerde en ook opriepen tot een eis tot het vrijgeven van satellietbeelden van de vermeende raketlancering. Zij voegden eraan toe:
"Wij vernemen indirect van sommige van onze oud-collega's, dat datgene wat minister Kerry allemaal oppert, niet in overeenstemming is met de werkelijke feiten die uit inlichtingendiensten naar voren komen'..!
Op 9 augustus was het de Maleisische website '
New Straits Times',
die een artikel publiceerde waarin het regime in Kiev verantwoordelijk werd gehouden voor het neerschieten van de MH17. Bewijs van de crash site, zou duidelijk maken, dat het vliegtuig eerst in de lucht was geraakt door een afgevuurde luchtdoelraket van een straaljager, waarna deze straaljager er met zwaar mitrailleurvuur voor gezorgd zou hebben, dat de Boeing uiteindelijk neerstortte. (Dit is overigens in volstrekte overeenstemming met de getuigen van de verdwenen BBC-reportage!!) .
Tot slot, last but not least
En hoewel het voor IEDEREEN nog te vroeg is om definitief conclusies te trekken, hoe de MH17 en de bijna 300 passagiers aan hun afschuwelijke einde zijn gekomen, blijkt het bewijs door te slaan naar de -door de VS-gesteunde- regering in Kiev-Oekraïne, en daarachter weer de Europese landen, die blind achter de VS hebben gemarcheerd..
Weg was de verontwaardiging kennelijk over het schandalige aftappen van tientallen miljoenen telefooons, mobiele telefoons, computers etc, Blind achter de VS aan, brengt niets dan ellende. Deze regering in Kiev, met achter hen de ADVISEURS VAN DE CIA, blijken de condities geschapen te hebben voor de vernietiging van de MH17, voor de vernietiging van bijna 300 onschuldige mensenlevens.
Een regering die -onder leiding weer van de VS en mensen als Europarlementariër, VVD-er Hans van Balen, het prima vindt, dat Oekraïensee neo-fascisten plaats nemen op hoge posities in het leger. Neo-fascisten die verantwoordelijk waren voor de fascistische coup in Kiev, begin dit jaar, die het pro-Westerse regime aan de macht bracht.
Vervolgens waren het de Westerse media die het regime in Kiev steunden om de separatisten in het oosten van Oekraïne te bestrijden. Daarbij dit gebied tot oorlogsgebied verklarend, waarin het mogelijk werd de MH17 neer te halen.
Na de regelrechte moord op de 298 passagiers, aan boord van de MH17, blijken Westerse overheden en inlichtingendiensten een rol te hebben gespeeld die nog steeds uiterst vaag is, maar waarin zij kennelijk wel de gelegenheid te baat hebben genomen, een sinistere manoeuvre uit te halen om een oorlog tegen het Poetin-regime te ontketenen.
Het is nu aan de bevolking in de Europese landen, met name in Nederland, om niet stilzwijgend te blijven. Immers: 'wie zwijgt stemt toe!'.. Als bijna 300 onschuldige levens niet meer genoeg zijn om wakker te worden, om kritische vragen te (blijven!) stellen, waar zijn we dan nog?
Het zwijgen over de rol, de mogelijke OPZETTELIJKE rol (valse-vlag-operatie) van het regime in Kiev bij het neerhalen van het Malaysian Airlines-toestel, de Boeing 777, vlucht MH17, maakt de situatie met de dag crimineler. Het gaat daarbij om de betrokkenheid, vooral door willens en wetens te zwijgen!!, van media uit het politieke establishment, politieke leiders en de gehele regerende klasse..
En als deze media nu eens hun journalistieke taak oppakken, hun lezers laten beslissen, door achter stellingen vol krachtige beweringen wellicht eens vaker een vraagteken te plaatsen, dan zouden we, naar ons idee, al een stuk opgeschoten zijn. Leven we in een tijd waarin we onze mening bij het wakker-worden dienen ingegoten te krijgen, als een paplepel? Of leven we in de tijd dat we mondig genoeg zijn geworden, onze EIGEN KEUZE TE MAKEN en te beseffen dat eigenlijk dat vraagteken het belangrijkste onderdeel van het wakker-worden was..?!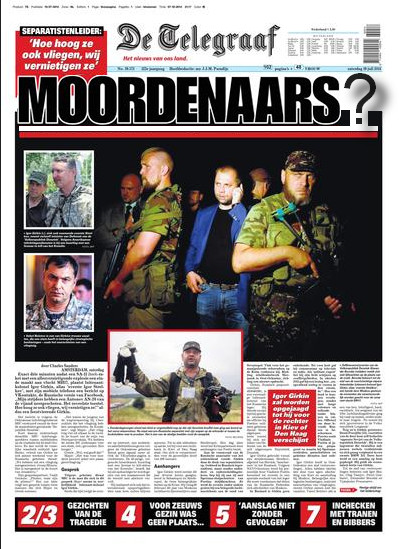 * * *
Source: http://www.wanttoknow.nl/hoofdartikelen/mh17-waarom-obama-en-de-media-muisstil-zijn/